Mid-Cities Destination Imagination Regional Tournament
February 11, 2023
7:30am-5:00pm
Awards: door open at 6:30pm, start at 7:00pm (Enter by the gym. NO FOOD OR DRINKS.)
Cross Timbers Middle School 2301 Pool Rd, Grapevine, TX 76051
Paperwork due Wednesday, February 8 by 11:00pm
Team Check-in & Order Pick-up:
Wednesday, February 8 4:30-6:30pm
Arlington ISD Athletics Center
1OO1 E Division Street Arlington, TX 76O11
We will be available to help with your paperwork submission. The AAC has a clear bag policy.
---
---
2023 Regional T-shirt and Pins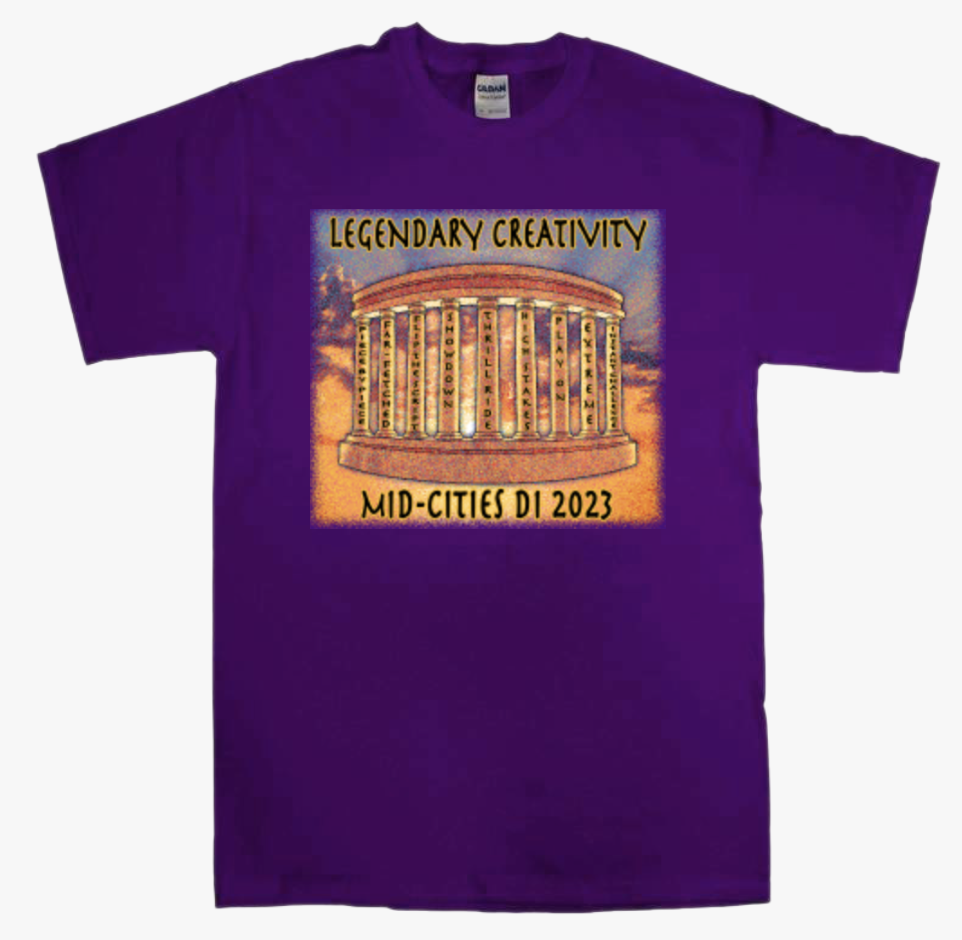 Our 2023 t-shirts and pins are available for order through Team Managers at ryt.destinationimagination.org until January 26th. Pins are $12 for a set of three and shirts are $16. We will have some inventory at the tournament, but sizes are not guaranteed. Advancing teams will need the regional t-shirt at the Lone Star Finals. Prices may increase after the tournament.
This year, we will have pin trading at the tournament. We will sell lanyards and grab bags of 5 pins for $5 each. Kids may ask any board member wearing a purple, collared MCDI Board shirt to trade and we will! Team members are allowed to trade with each other, but there may be more negotiating involved in those trades! If you choose to bring a huge pin collection to trade, please be respectful of the space where you trade. Do not block hallways or impede traffic. You may be asked to move.
---
Safety Considerations
All team members are required to wear solid sole, closed-toe shoes.
Safety glasses should be worn, if presentation poses a risk.
It is the team's responsibility to protect the challenge site floor.
We are guests in this school, and we should treat it as if it were our own. Please pick up your trash and keep the hallways clear for others to pass.
Please set up in the light green areas on the site map. Do not set up in the hallways where challenges are being held.
---
Parking
Please only park in marked spaces
Bus parking at Grapevine High School
Extra parking at MAC and Grapevine High School
Please load and unload at curb near cafeteria, gym, and main entrance
---
No weapons of any kind, including replicas or representation of weapon use
Helium
Dry ice (only if handled properly)
Smoke/fog machines
Silly string
No large amounts of water
No lights may be turned off during a presentation
No glitter–Glitter is banned at the Lone Star Finals
No outside food or drink in the performance areas
No weapons of any kind, including replicas or representation of weapon use: including but not limited to sound effects. Failure to comply with this may result in deductions for your team or possible disqualification. If you have any questions, please contact the tournament director.
---
Clarifications
Every team may ask up to 10 rule clarification. To ask a Team Clarifications login to the Resource Area on DestinationImagination.org. Then, go to Teams and to Clarifications.
Your team should be aware of all Published Clarifications.
---
Advancing Teams
Challenges with 4 or less teams in a level will advance 1st place teams.
Challenges with 5 or more teams in a level will advance 1st and 2nd place teams.
Bonus teams will be announced after February 18.
A mandatory Going to State meeting will take place the week following tournament.
Lone Star Finals registration deadline is March 3 and fees are $350.
Lone Star Finals are March 24-25 at University of Arlington.
---
Notes from the Challenge Masters
Please make sure your team members know that there will be a Q & A session with the appraisers at the end of their team challenge. Prepare them for that!
Instant Challenge: If you are a team manager of multiple teams, you will not be able to go into any instant challenge unless it is your LAST team of the day… REGARDLESS OF CHALLENGE OR LEVEL
You MUST bring a device with you to the tournament. If corrections are needed, you will be given the opportunity to fix them prior to the challenge, but devices will NOT be available for you to borrow.
HAVE FUN!!!
---
Receive real-time notifications at the tournament with Mid-Cities DI Remind. Text @midcitiesd to 81010.
---
Tournament Schedule Requests
Please understand we had 75 requests from 110 teams. We will do our best, but not all requests can be honored.
Requests will be prioritized as follows and are not guaranteed. * If a request involves more than one team, you will need to provide Team Numbers of the other teams for your request to be considered.
1 Teams doing multiple challenge and/or Team Members on multiple teams.
2 Team Managers of multiple teams
3 Team Managers with children on other teams
4 School related activities (UIL, etc.)
5 Families with children on multiple teams
---
Tournament Volunteers
Appraisers – Every team must provide at least one tournament Appraiser. Appraiser Volunteers are trained to officiate this tournament. It's fun and rewarding, and requires no specific experience or expertise – but it does require a commitment of time. Appraisers will attend a virtual training during the week of January 14, 2023 and will work the tournament February 11, 2023 7:30am-5:00pm. Appraisers must be 18 or older and have completed high school. As an Appraiser, please remember that you will have to work all during the tournament and should expect to miss your child's performance. All appraisers will receive a Mid-Cities DI appraiser t-shirt.
**New this year, we have offered teams an option to pay a $200 fee to not provide an appraiser. If a team does not give a good faith effort to provide an appraiser that attends both training and the tournament, Mid-Cities Creativity may charge the team $200. Non-payment of this fee could result in the team's disqualification for tournament participation and/or advancement.**
Support Volunteers – It takes a small army to put on a successful tournament, and we can always use extra hands for things like registration, watching doors, cleanup, etc. Every team must provide at least one support volunteer. Support Volunteers are required to work a 2 hour shift and will be able to attend their team members presentation.